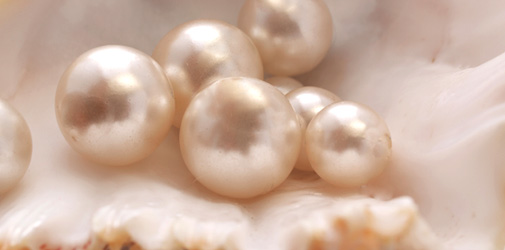 Pearl Pendants
Pearl pendants are tasteful and classy accessories, and usually feature one or more pearls glued or drilled into a delicate setting and hung from a strand of precious metal. Because pearls are so soft and malleable, they can be incorporated into almost any design of pearl pendant.
Solitaire Pearl Pendants

Solitaire pearl pendants typically feature a single pearl that is attached to a bail and hung from a precious metal chain. The type of pendant and bail will generally be selected according to the unique characteristics of the pearl. While other gemstones are sometimes included in solitaire pearl pendants as additional enhancements, solitaire pearl pendants will always make one feature pearl their primary point of focus.

Pearl Journey Pendants

Pearl journey pendants combine three or more pearls that are of maturing size, of exactly the same size and variety, or of different types, in a horizontal or vertical line. A fitting gift for romantics, the image of three pearls in a row is commonly believed to represent a couple's past, present and future. A pearl journey pendant may also symbolise an individual's growth and passage through life, making them an equally as ideal gift for milestone birthdays.

Cluster Pearl Pendants

Cluster pearl pendants are an attractive option for those wanting to utilise a group of pearls, or pearls of varying values and sizes, in a single pendant. The pearls are carefully arranged into a stunning cluster that's hung from a precious metal chain.