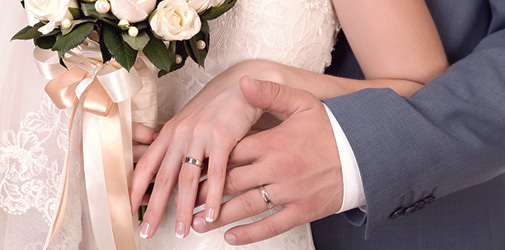 WEDDING RING
Wedding rings - a material thing that really means so much!
Wedding rings are used in different cultures and traditions from around the world. In virtually every culture around the world, your nuptials would be incomplete without a wedding ring.
These circular rings are mostly made from a simple of precious metal.
They symbolize commitment, promise, and pledge, and so they are quite precious. If you're planning to get a wedding ring, you have to make sure they go along nicely with the bride's engagement ring.
If you're looking for the perfect wedding ring in HK, our collection of some of the finest diamond rings will leave you spoilt with choice.
Here at Difeee, we understand how important your wedding is to you. We share this sentiment and are committed to helping you make the most of this moment of life. Let's start with the perfect wedding ring - made just for you!
WEDDING RING HISTORY
Wedding rings have a long history and deep symbolism. This history goes way back to thousands of years ago when the Romans began giving out' betrothal rings' as part of the wedding rituals.
The simple and circular design of wedding rings is believed to symbolize commitment, purity, and of course, eternity.
The history of wedding rings can also be traced back to the ancient Egyptians. These ancient Egyptians believe that wearing rings on the extremities of the body, such as the fingers, toes, wrists, and ankles, can prolong one's life.
The practice of wearing wedding rings on the left finger is also believed to have originated from ancient Egyptian belief that a special vein on the left-hand runs to the heart.
Rings were also given as gifts in ancient Greece. From ancient Egyptians to Romans and Greeks, this tradition has spread to every corner of the world, taking on different meanings and significance.
At some point, they were seen as a vital part of a woman's dowry, marking a change in the ownership of the bride from her family to the groom's family.
At a time in history, puzzle rings that usually fall apart and very difficult to assemble after being removed were used in the Middle East as a means of ensuring fidelity to marriage. In some parts of Europe, posey rings with special messages engraved on them were also used at some point.
While women traditionally wore these different types of wedding rings, the 20th-century wartime meant that couples often had to endure long periods of separation. This marked a new change in the history and use of wedding rings as men also began to wear it.
Wedding Ring HK: Finding the Perfect Wedding Ring in Hong Kong
Wedding rings have become a part of the wedding culture in Hong Kong and the rest of the world. Most people have also come to prefer diamond wedding rings as their symbol of a lasting and romantic expression of love.
Here at Difeee, we're committed to helping couples find the best wedding ring HK to symbolize their lifelong commitment to each other. The GIA certified our high-quality diamond wedding rings, and these are crafted to shine just as bright as your love.
At Difeee, we believe that love should be both pure and sacred.
When it's time to say 'I do,' we want to help you make it even more beautiful. We understand that this will be the most important jewellery in your collection and so we will help you find one that truly speaks to you. Check out our collection of gorgeous and stunning diamond wedding rings to help you start forever on a bright and brilliant, beautiful page!