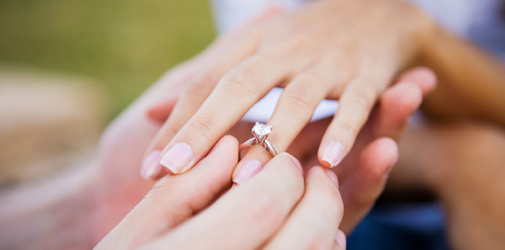 ENGAGEMENT RING
They say all a girl needs is love and some diamonds!
Since you've made the most important decision of all (choosing the 'she'), what's next now is choosing the perfect engagement ring to express your love. You want to go for a diamond ring because it's perhaps the truest expression of love and romance.
While this should not be so much of a challenge, you'll have to make a few key decisions here and there. This post will, however, help you get an insight into everything involved in choosing the perfect ring for your one true love!
DETERMINING A BUDGET
Diamonds are rare gemstones for unique people.
While you'll expect this to cost a fair amount, establishing a budget would help you find the ideal engagement ring HK within your range. This will, of course, depend on how much you have to splash on the ring. Regardless, you should focus on finding high-quality and well-crafted pieces within your budget range to guarantee true lifetime value.
SELECTING A DIAMOND
Diamonds have always been the choice of many since time immemorial. This is thanks to the clarity, durability, and the brilliant shine of these gemstones that outshines many others.
While your choice will largely depend on your personal preference, you'll have to make a decision between choosing the right shape, size, and quality.
Diamond Shape
Diamonds come in different shapes, from square to round, oval, pear-shaped, and more. Choosing the ideal shape should be more of a personal taste. But you have to be aware that certain shapes may influence the setting and final appearance of your diamond engagement ring.
The 4C's of a Diamond's Quality
A diamond's quality depends on four major characteristics.
These are the cut, clarity, colour, and carat which are collectively known as the 4Cs.
Diamond cut has to do with its brilliance and its light reflection properties. A brilliant-cut diamond will be perfectly symmetric and will have a brilliant shine.
Diamond clarity has to do with the natural markings, i.e the blemishes. All diamonds have imperfections but the fewer the blemish, the higher the quality, and price.
Diamond colour also impacts quality and price. Diamonds with yellow or cloudy tints are often referred to as low grade and are therefore less costly compared to the more colourless ones.
Diamond carat describes the weight and not the size of a diamond. The diamond weight influences the price alongside the other factors of cut, colour, and clarity.
CHOOSING A DIAMOND SETTING
You want to choose stylish rings so it's important that you focus on the setting.
The setting may turn out to be the most challenging step in choosing your engagement ring HK. You will have to understand a bit of your fiancée's personal taste to make the right decisions. Perhaps taking a peek through her jewellery collection may point you in the right direction.
You'll need an understanding of her style to pick the right diamond setting. Along with the setting you also need to have an idea of her choice of metal, whether this is white gold, rose gold, platinum, or something else.
The Type of Metal
Most people would like one of platinum, yellow gold or white gold as the preferred metal for their engagement ring.
Platinum
looks more like silver. It's super-durable, hypoallergenic, and preferred by many people. Platinum is also the most expensive of the three.
Yellow gold
is a popular choice thanks to its low cost and malleability. It's however more prone to wear and tear in the long run.
White gold
also looks like silver but is also far less expensive compared to platinum. It, however, fares better than yellow gold in endurance and so will hold up against wear and tear in a slightly better way.
The Type of Setting
There are different types of diamond settings.
The Solitaire Setting, for instance, has prongs that hold it in centre place. It draws the attention to the diamond and is a popular and timeless choice.
There is the Three Stone Setting which is believed to symbolize the past, present, and future. The Side Stone Setting has the diamond nestled between other smaller diamonds while the Tension Setting uses pressure to make the diamond appear like it is floating on the ring.
The Pavé Setting has become popular in recent times. This setting incorporates multiple smaller diamonds attached to the metal band or ring frame.
There is also the Wedding Setting that basically has to do with matching wedding and engagement rings that are designed to fit perfectly when worn together as a pair.
THE SIZE OF THE RING
Most people won't know their ring size. You may want to take a ring she wears frequently to the jeweller to help determine her right size. It also makes sense to understand the finger on which the ring will be worn, as well.
Choosing the perfect engagement ring in Hong Kong may seem challenging.
However, knowing what really matters will make this a lot easier. If you're in the market for the diamond engagement rings of the finest quality in HK, you can check out our stunning collection to find a piece that will help you make a lasting impression on your heartthrob.
Difeee Diamonds is where you can experience the difference!